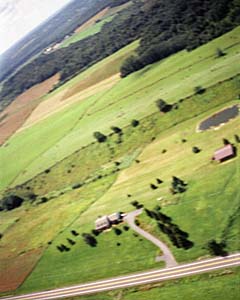 Information
Our monthly launches are held at Weigand's Hay farm in Van Buren. We fly under FAA Notification with an altitude limit of 3,000 ft AGL. We can fly up to and including "H" Motors, and higher impulse motors not exceeding our altitude ceiling with advance approval. Level 1 certification required for H or I flights. If interested in becoming certified, or have any questions on what we can fly, please email us. The NAR Safety Code as well as all Club rules must be followed.
Directions
From 690- take Van Buren Rd. Exit, turn left on Van Buren Rd. About 1/4 mile turn right on Conners Rd. Continue up Conners, Van Buren Park will be on your right, turn left on Canton St. Launch field entrance is either on the left across from the white farm house, or turn left on Turner
Click here for a map to the launch site as well as Walt's Hobby.